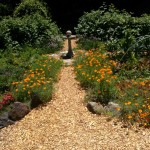 by Avis Licht
Edible landscaping has become more popular than I ever thought it would or could. Every day we hear about some new project in cities all over the world. We're seeing gardens that are both beautiful and have delicious, healthy produce. I mean, it only makes sense.
In Marin County the municipal water district has been encouraging people to conserve water by planting low water use plants as well as food gardens.  In May they have a tour of the best gardens that use principals that they call "Bay Friendly":  organic, drought resistant, permeable surfaces, habitat friendly for beneficial birds and insects, and lovely to look at.
On the tour last weekend I took some photos from a few of the gardens that incorporated some good edible landscaping ideas.  See if anything inspires you for your garden. (Click on the photos to enlarge them.)
To read more about designing your edible landscape, read this post. 
Be sure to leave a comment or shoot me a question by going to the Ask Avis page.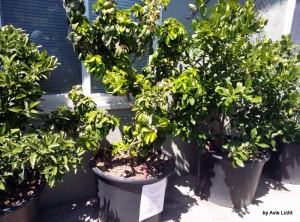 I've never seen this many fruit trees in containers. Lots of varieties but also a smaller harvest from the containers. When growing in pots, be sure to give plenty of water and nutrients. It is easier to find the right growing conditions when you can move the pots to the right micro climate. Since they will be dwarf simply by being in pots you can grow more trees in a smaller area.
To find out more about growing in containers read my post on self watering planters.
To find out more about growing strawberries read this post.
[portfolio_slideshow id=2575]