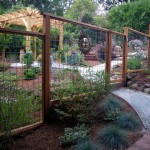 by Avis Licht – Designing your edible landscape can seem formidable. Here are a few ideas to help you move forward on your own yard.
1. Simplify your garden.  Remove any unwanted fences, structures, and unhealthy plants.  Open up your yard before you decide what you want to add.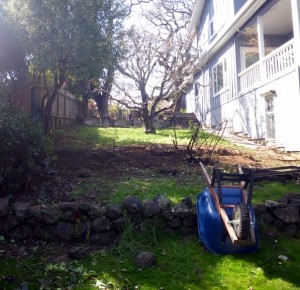 After removing the fence and old shrubs, we realized there was an open view to the old apple tree. It was previously  hidden, and now is the centerpiece of the garden. By clearing out the old, it will help you see what you want to keep and open up new vistas.
2. Once you've cleaned the place up, you can decide where to put your paths, retaining walls and any structures.Next decision: where to put paths.  It is important to be able to walk through the garden, to enjoy it and also to take care of it. The path on the right side of the house existed and we left it as is to access the house.  The path through the garden is a winding, informal path that encourages you to slow down and enjoy the view.
3. Finally, you can choose what plants you want to use. In this yard, there are a lot of low maintenance plants like herbs and California native plants.  You can see lavender, rosemary, Salvia, penstemon, thyme, oregano and California poppies.  Along the fence and for ground covers we used Manzanita, Ceanothus, Osmanthus and cotoneaster. At the top of the garden is a small vegetable and herb garden near the kitchen, where it is easily accessible.
I'm available by phone, skype or in person for hourly consultations.  Send me a note via this blog and we can arrange it.
Use these three simple ideas to help you get started.  You'll be surprised how they can open up your eyes to new possibilities.
To help you get started on your vegetable garden there is plenty of information in my ebook, The Spring Garden Made Easy.  It's on sale for $4.99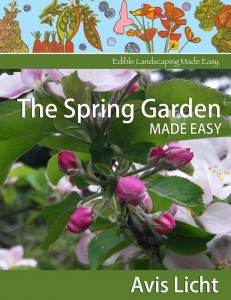 ---