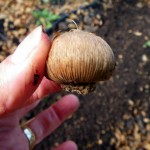 There are many bulbs one can plant in the Fall, but only one is the source of a prized spice. The Saffron Crocus is the unlikely home of Saffron, an incredibly expensive and prized spice for cooking.
Crocus sativus thrives in the Mediterranean climates where hot and dry summer breezes sweep semi-arid lands. It can nonetheless survive cold winters, tolerating frosts as low as −10 °C (14 °F) and short periods of snow cover.
Crocus prefers friable, loose,  well-watered, and well-drained clay soils with high organic content. Traditional raised beds promote good drainage.
Harvests are by necessity a speedy affair: after blossoming at dawn, flowers quickly wilt as the day passes. All plants bloom within a window of one or two weeks. You need to carefully collect the threads off the stigma.     
Don't expect to get rich harvesting your saffron, but maybe you'll get enough for one delicious meal of Paella. Here's a great and easy recipe.
Paella
Ingredients
2 tablespoons olive oil
1 tablespoon paprika
2 teaspoons dried oregano
salt and black pepper to taste
2 pounds skinless, boneless chicken breasts, cut into 2 inch pieces
2 tablespoons olive oil, divided
3 cloves garlic, crushed
1 teaspoon crushed red pepper flakes
2 cups uncooked short-grain white rice
1 pinch saffron threads
1 bay leaf
1 quart chicken stock
2 lemons, zested
2 tablespoons olive oil
1 Spanish onion, chopped
1 red bell pepper, coarsely chopped
1 pound chorizo sausage, casings removed and crumbled
1 pound shrimp, peeled and deveined
Directions
In a medium bowl, mix together 2 tablespoons olive oil, paprika, oregano, and salt and pepper. Stir in chicken pieces to coat. Cover, and refrigerate.
Heat 2 tablespoons olive oil in a large skillet or paella pan over medium heat. Stir in garlic, red pepper flakes, and rice. Cook, stirring, to coat rice with oil, about 3 minutes. Stir in saffron threads, bay leaf, parsley, chicken stock, and lemon zest. Bring to a boil, cover, and reduce heat to medium low. Simmer 20 minutes.
Meanwhile, heat 2 tablespoons olive oil in a separate skillet over medium heat. Stir in marinated chicken and onion; cook 5 minutes. Stir in bell pepper and sausage; cook 5 minutes. Stir in shrimp; cook, turning the shrimp, until both sides are pink.
Spread rice mixture onto a serving tray. Top with meat and seafood mixture.