by Avis Licht –
Here is one ridiculously simple way to save your garden from compaction, drought and confusion.
Create paths exactly where you want people to walk. That's it. That's the ridiculously simple and effective way to save water, improve your soil and avoid confusion.
Compaction makes it difficult for water to penetrate, for air to infiltrate and for roots to grow in a healthy manner. Different soil types react differently to being walked on.
Sandy soil has the largest particles among the different soil types. It's dry and gritty to the touch, and because the particles have huge spaces between them, it can't hold on to water and does not compact so easily. So you folks near the beach can worry less about this. The rest of you, listen up.
Silty soil has much smaller particles than sandy soil so it's smooth to the touch. When moistened, it's soapy slick. When you roll it between your fingers, dirt is left on your skin.
Silty soil can also easily compact. It can become poorly aerated, too.
Clay soil has the smallest particles among the three so it has good water storage qualities. It's sticky to the touch when wet, but smooth when dry. Due to the tiny size of its particles and its tendency to settle together, little air passes through its spaces. This type of soil is also prone to major compaction.
Just the one action of NOT walking on your soil can help immensely. Reducing compaction allows water to penetrate, saving water; increases root growth, creating conditions for healthier plants, reduces confusion by showing people where to walk.
By building paths, you tell your guests, and yourself exactly where to walk, thereby reducing all confusion. (See first sentence).
Here's a post I wrote on how to make a simple, safe and sturdy path.

The Well Made Path.
Raised beds are a great way to keep your soil from being stepped on continuously.Click here to see a variety of 

Raised Beds

.
Mulch, stones, brick, wood rounds set in a clearly marked path will all work to reduce compacted soils.
This image comes from the University of Kentucky; 
They write: "Compaction results when soil particles are pressed together, reducing pore space and aeration.  The damage to the soil structure reduces the soil's ability to hold and conduct water, nutrients, and oxygen.  Rate of water infiltration is decreased and more water is lost to runoff.  Other effects of compaction include decreased organic matter, reduced microbial activity, poor drainage, increased erosion, and nutrient leaching.
These undesirable effects on the soil directly affect plant growth.  Roots have increased difficulty when penetrating the soil which often results in reduced root growth and reduced ability to take up water and nutrients.  Compacted soils can slow forage establishment, cause short and stunted plants, decrease drought tolerance, and reduce overall yields.  Severely compacted areas often have sparse growth or are bare due to these problems."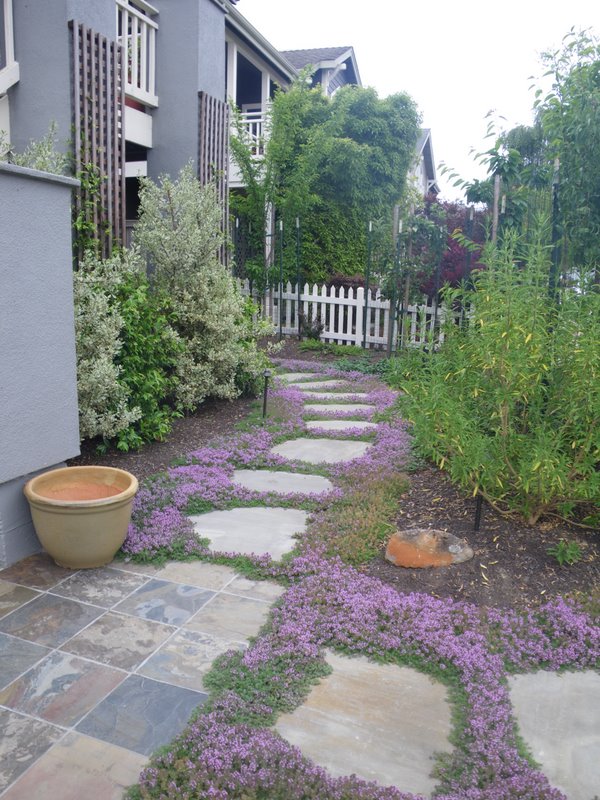 Even a simple stone path, planted with ground cover is beautiful and effective. Paths: you don't want to live without them.