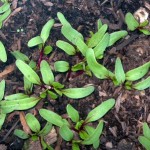 by Avis Licht
Yesterday I talked about seed starting medium and today I want to talk about light and heat.
When starting seeds early in the season, it is usually too cold to start them outside.  That means, they are either in the house, cold frame or greenhouse.  It's a rare house that has enough sunlight to start seedlings indoors and not have them get leggy.  It's an even rarer house that has a greenhouse or cold frame.
Light for starting seeds:
Most seedlings require 14 to 16 hours of direct light to manufacture enough food to produce healthy stems and leaves. The characteristic legginess that often occurs when seedlings are grown on a windowsill indicates that the plants are not receiving enough light intensity, or enough hours of light. If your seedlings are in a south-facing window, you can enhance the incoming light by covering a piece of cardboard with aluminum foil and placing it in back of the seedlings. The light will bounce off the foil and back onto the seedlings.
If you do not have a south-facing window, you will need to use grow lights. When growing seedlings under lights, you can use a combination of cool and warm fluorescents, or full-spectrum fluorescent bulbs. Incandescent bulbs produce too much heat in relation to the light given off. They also lack the blue-spectrum light that keeps seedlings stocky and dark green.
To get excellent pots, potting soil, greenhouses and more, go to my store and you can find what you need easily.


Seedlings need a high intensity of light. The fluorescent bulbs should be placed very close to the plants—no more than three inches away from the foliage—and should be left on 12 to 14 hours per day. If you are growing your seedlings on a windowsill, you may need to supplement with a few hours of artificial light, especially during the winter months.
Temperature for starting seeds:
The temperatures for optimum germination listed on seed packets refer to soil temperature, not air temperature. Although seeds can vary drastically, most vegetable seeds need a warm soil temperature around 78 deg. F.
If the soil is too cold, seeds may take much longer to germinate, or they may not germinate at all. To provide additional warmth, you can use a heat mat or place the containers on top of a warm refrigerator, television, or keep them in a warm room until the seeds germinate. Just be sure to get your seedlings to a sunny window or under lights within 24 hours of seeing little sprouts emerging through the soil surface.
After germination, most seedlings grow best if the air temperature is below 70 degrees F. If temperatures are too warm (over 75), the seedlings will grow too fast and get weak and leggy. Most seedlings grow fine in air temperatures as low as 50 degrees, as long as soil temperature is maintained at about 65 to 70.
 Give them light and warmth and keep them moist, and your seeds will work hard on your behalf. At the risk of repeating myself, the best thing you can do in the garden is to observe your plants.  Keep an eye on them and they'll let you know if they're happy.