by Avis Licht
We love the birds in our garden, but we don't love how they eat the young seedlings. Here is the best way I've found to keep the little rascals from wrecking your garden.
1. Plant the seedlings, like lettuce, beets or broccoli in a raised bed. When you plant intensively in a bed it is easier to protect more plants than if they are in single rows.
2. Place wire  fencing over the bed in a hoop like fashion.  You can also use heavy gauge wire, flexible plastic tubing or bender board.
3. Pin the edges down with wire staples that are used for holding down irrigation tubing.
4. Lay bird netting over the wire. Pin it down carefully along the edge of the bed.  If you leave any openings the birds will sneak in.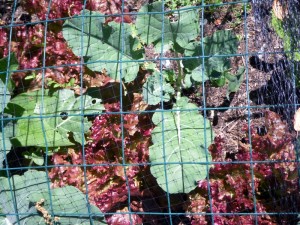 One little thing. You need to be sure that it's birds eating your seedlings and not some other pests, like snails or slugs. Bird netting will NOT keep the snails out. A bird will bite the plant and leave a v shaped mark like this > .  Snails and slugs eat both the edges and the middle of the leaf in curves.