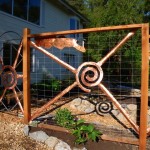 by Avis Licht – Designing a front yard can be a little tricky. Designing it so that it is also a productive food garden makes it even more challenging. What makes an edible landscape work, is that not only does one get food from it, but it must also be lovely to look at in all seasons.  Using a few basic  design tenants and some good gardening sense will help you get started.
1. Always note your sun/shadow in all seasons.  This can change drastically between summer and winter. Be sure to place your shade plants in shady spots, and your sun loving plants where they will find the light. In the garden in these photos, the house casts a large shadow – almost completely in winter, but only partially in summer.
Since this was the only open area for my client's vegetables, we noted the best sun areas during the main growing season between April and October.
Don't forget to look at my book on The Spring Garden Made Easy.
2.If you need a fence, be sure it looks good, lets the light into the garden and keeps the deer and other critters out. Wood fences can look good, but can also create shadows that prevent plants from getting enough light.
We removed the wood fence from this garden, as it cast a heavy shadow in winter when the sun was low in the sky.  Because this is California, there is a long growing season and we wanted to make good use of the little space available. Many neighbors stop by to admire the beautiful vegetables and flowers in the front yard.  Keeping this garden well tended all year makes it a neighborhood delight.  Everyone wants a fresh pea in spring and tomato in summer.There are plenty of flowers to keep it cheerful.
3.Create permanent beds and paths. Permanent beds create pattern and form in a garden even when the beds may be empty. The same is true for paths. They are cleaner, safer and create form in the garden.  Paths also keep people from walking on the beds. Here are a few different solutions.  Stone paths are more expensive, but last longer and are beautiful. Chipped paths look good and are inexpensive.  They also allow the water to seep into the soil for water retention.
Stone paths are safe, beautiful, long lasting and also more expensive.  Choose a material appropriate for you and your budget.
4. Choose plants the grow well in your climate and in your site.  Choose appropriate sized plants. Meaning, if you have a small front yard, use dwarf or semi dwarf trees, or small shrubs. Fruit trees, blueberries, currants, strawberries mixed with flowering shrubs all make wonderful front yard plants.  They look good in most seasons.  Use perennials in your front yard and keep the annuals to a minimum. When growing vegetables in the front yard, keep them well tended if your yard is open to the neighborhood. It's all part of being a good neighbor. The more you share the bounty, the  more your neighbors will want to imitate your garden.
These are a few ideas to help you plan your edible front yard. There will be more ideas to come. Sign up for my blog and you won't miss anything.