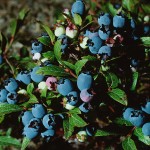 Blueberries are one of the best plants you can choose for your edible landscape. They are easy to grow, beautiful in all seasons, and give absolutely delicious and nutritious fruit. By growing your own organic blueberries you can be sure they are the best and the safest.
There are a few things you need to know about blueberries and your climate in order to choose the best variety for your garden. I'll make it simple here, but if you'd like to know more be sure to watch this video on planting and choosing your blueberries.
First of all you need to determine your growing zone. You can do that by typing your zip code into this USDA chart or the Sunset Garden book also offers growing zones by zip code here for the United States.
USDA Hardiness Zones:
The zones vary based on type.
Northern highbush : Zones 4-7
Southern highbush : Zones 7-10
Lowbush : Zones 3-6
Half-high : Zones 3-7
Rabbiteye : Zones 7-9
All blueberries like acidic soil, similar to conditions that suit azaleas and rhododendrons. You can add peat moss to your soil to lower the pH (4.5 – 5.5). You should also use
Shrubs Alive!TM acid food and fertilizer.>
Blueberries have fine surface roots, which should not be disturbed by cultivation. I like to heavily mulch my blueberries with sawdust. This protects the roots, keeps the soil moist and the weeds to a minimum.
There are several kinds of blueberries. Highbush blueberries grow upright between 5 and 6 feet tall. They require winter cold and their fruit ripens from late spring to late summer. Most high bush varieties grow in colder climates. Northern highbush grow in zones 4-7. Southern varieties grow in zones 7-10.
Lowbush blueberries grow in Zones 3-6. As the zones suggest, these are very good for cold places. These grow only 6-18″ high. They have underground runners. Find the right varieties in your local nursery or order from catalogs for your zone

.
There is another variety called half -high. Half-High mixes the benefits of highbush – large fruit – with the benefits of lowbush – cold tolerance.
Finally there are rabbiteye blueberries. Rabbiteye grows in Zones 7 to 9. These can grow over ten feet tall.
In addition to acidic soil, blueberries need full sun, well drained soil and continuous moisture for best fruit production. Although some varieties are self pollinating, it is better to have at least two different varieties for best fruit production.
It is simple to prune blueberries. On older plants cut back the ends of twigs to strong buds. Remove some of the oldest branches each year and any dead or weak shoots. This gives the plants more air and light.
Pick the fruit when it is a dark blue. Like these:
The health attributes of the blueberry are many, but really we eat them because they are sooooo goood. I urge you to find a place in your garden for this most wonderful of plants.