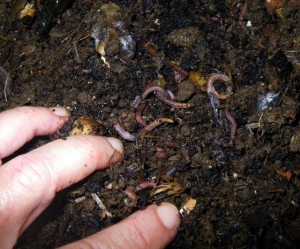 by Avis Licht – I really love worms. Some people think I'm a little crazy about my worm love, but when you know more about them, you'll love them too. It's hard to believe such a small creature can do so much heavy lifting. Check out these facts:
1.When compared with soil, worm casts also contain:
| | |
| --- | --- |
| 5 | times more nitrogen; |
| 7 | times more phosphorus; |
| 1.5 | times the calcium; |
| 11 | times more potassium; |
| 3 | times more exchangeable magnesium. |
2. Worm compost is organic, non-burning and rich in nutrients. Vermicompost contains eight times as many microorganisms as their feed, which promotes healthy plant growth.
Be sure to sign up with your email to get all my posts. Go to the right column and you'll find the sign up spot. I never share or give your emails to anyone else. Don't miss any important gardening information.
3.Worms tunnel deeply in the soil and bring subsoil closer to the surface mixing it with the topsoil. Slime, a secretion of earthworms, contains nitrogen. Nitrogen, as we all know, is an important nutrient for plants.
4. When expelled, worm casts consist of granules, surrounded by a mucus, which hardens upon exposure to air. When granular castings are mixed into garden or houseplant soils there is a slow "time release" of nutrients. However, the hardened particles of mucus do not readily break down. Instead, they serve to break up soils, providing aeration and improving drainage. Worm casts therefore provide an organic soil conditioner as well as a natural fertiliser.
5. The casts are also rich in humic acids, which condition the soil, have a perfect pH balance, and have plant growth factors similar to those found in seaweed.
Worms live where there is food, moisture, oxygen and a favorable temperature. If they don't have these things, they go somewhere else. Don't let this happen to your worms!
Here's how to provide your worms with a happy home:
1. Get a multi layer worm box. It allows the worms to travel to new food in the next layer, keeps the rain out, collects worm juice at the bottom and lets you collect finished castings without sifting. The worms move up to the next layer when they've finished the food in the first layer.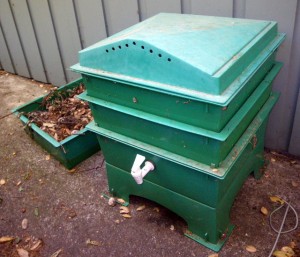 2. Layer bedding material in the box. It can be torn newspaper, sawdust, leaves, dried leaves or any biodegradable, carbon based material. You can use horse or composted rabbit manure. Earthworm bedding should retain moisture, remain loose, and not contain much protein or organic nitrogen compounds that readily degrade. Don't put the box in the sun. It will get too hot for your worms.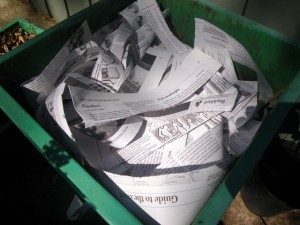 3.Add moist materials like composted manure, soil, leaves and worms. I got these worms from Urban Worm Composting.
4.After worms are added, keep the bedding moist but not soggy. If you're using kitchen scraps, cut them up into 2″-3″ pieces. It's easier for them to eat. Feed them 2 or 3 times a week, a few cups at a time. If you leave on vacation, don't worry, they'll be fine. Just make sure they have a little food before you go. Cover the food with cardboard or shredded newspaper. It keeps them moist.
5. What NOT to feed your worms:
Use Caution When Adding These:
Breads — can attract red mites
Potato skins, onions, garlic, ginger — get consumed slowly and can cause odors
Coffee grounds — too many will make the bin acidic
Do Not Feed:
Meat, poultry, fish, dairy — protein attracts rodents
Potato chips, candy, oils — worms do not like junk food and these attract ants
Oranges, lemons, limes — citrus has a chemical substance (limonene) that is toxic to worms
Let me know if you have problems. There's usually a simple solution.
Gotta love those worms!