by Avis Licht
If you're in the winter doldrums, then now is a great time to start planning your Spring garden. From sowing seeds, to picking the right spot for each plant, composting, and getting your soil ready  for planting, I've got it covered in this easy to read booklet, The Spring Garden Made Easy.
Get my book  and  be ready for Spring!
It's that time of year – time to start the Spring Garden.  If you want to know what to grow in your own climate, how to start seed and how to make compost, be sure to get my e book.  Under $5 and you get all the information I learned in 40 years of gardening.  Well, maybe not all, but probably the best parts.
Robert Kourik, author of Your Edible Landscape – Naturally writes:
"Avis has condensed over four decades of gardening skill into one information-packed handbook. This is important reading for the beginning gardener. You will skip making many mistakes by reading this attractive handbook first."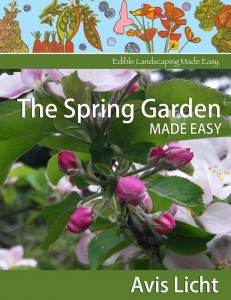 The first book, The Spring Garden Made Easy, is aimed at helping you start out, one step at a time to be successful and inspire you to keep going. Yes, there may be set backs – snails, earwigs, gophers, deer, they all want a part of your garden. Learn to how to keep them from getting too much and even how to share. Click on the Buy Now button above  and you can download it immediately. My hourly consultation is definitely more than $5, which is the cost of the book.  Since I can't be with all of you in your garden, take this opportunity to pick my brain by buying the book.  Be sure to sign up for the blog as well, it's free and it's got lots of information.  I always love to hear from my readers.  Leave me a comment and let me know how your garden grows. In the joy of gardening, Avis