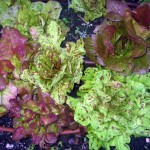 by guest blogger extraordinaire: Robert Kourik
Robert Kourik is a guest blogger for this site. He's definitely got the right credentials. Author of Your Edible Landscape Naturally, and Drip Irrigation for Every Landscape and All Climates, he's got lots of experience and lots of opinions. In this article he has some radical suggestions for how to use your drip irrigation.  Give it a try and see for yourself if it works in your garden. Let me know what you think. Being conscious of our water use is imperative and drip irrigation is an important tool.
Robert writes:
It's about time to start up drip irrigation systems. No matter how you use drip irrigation, frequently or every once in a while, it will always be more efficient than any sprinkler you're currently using.
Consider daily irrigation for the best growth and greatest vegetable yields. Daily irrigation doesn't use gallons of extra water. Oddly enough, infrequent watering may use more water than frequent, even daily, irrigation. If you have young seedlings, their roots are shallow, near the soil surface. They need access to water easily. Infrequent watering can have the effect of deep soil moisture and shallow dryness.
The other main consideration for frequent watering of small amounts is the texture of your soil. If you have a sandy or light loam soil, water will go through quickly and not be held in the soil. A clay soil will hold moisture much longer and should be watered less frequently. As with all the other tips you've read, observation of your own plants in your own garden will be the best way to determine what works best for you.
Once I planted a drought-resistant landscape with plants such as lavender, santolina, rockroses and rosemary. The day after planting, the timer was set to irrigate for 15 minutes. After the risk of transplant shock was over, the drip irrigation was turned on each day for only eight minutes to replace the moisture lost each day by transpiration. The plants flourished, even though each one-half-gph emitter was distributing only seven tablespoons of water per emitter each day. Contrast this with a nearby garden with a similar soil and plants arbitrarily watered only twice a month for four hours. This amounts to two gallons per emitter for the two-week period, or just more than 18 tablespoons of water per day—more than twice the water used in the flourishing landscape.
Please visit Robert at his website: RobertKourik.com and find out about all his books.
I would add one more thing to help you decide how much and how often to water. Use a moisture meter. It has a probe that you can put into the soil to see what the moisture is at different levels below the surface. A dry surface does NOT mean the soil is dry. You need to check 2 – 6 inches below to see if your soil is wet or dry.