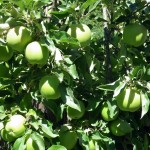 December is a good month to put the final finishing touches to the year's garden.
Dormant spraying, winter protection of tender plants and planting head the list of December garden projects. Soon it will be time to prune deciduous trees and shrubs.
DORMANT SPRAYING – November, December, January and early February are the months to apply dormant spray to help control over-wintering insects and diseases on deciduous trees and shrubs. A short and simple video will help explain what dormant spraying is and how to do it. Peaceful Valley Farm Supply is a wonderful source of organic gardening tools, seeds, plants and information.
WINTER PLANT PROTECTION – When the weather turns really cold all of a sudden  it is a good idea to provide some special protection to tender or early flowering plants. One of the best ways to provide this protection is to simply cover the plants with some type of cloth material. First place three of four stakes around the plant then drape the burlap, old blanket or row covers over the stakes so it does not come into direct contact with the leaves of the plant. Blankets and burlap are only left in place during the cold spell, as soon as the weather moderates, remove the covering completely. If you use transparent row covers you can leave them on during the winter and plenty of light will come through.
PLANTING TREES AND SHRUBS – Fall and early winter are ideal times for planting or transplanting both trees and shrubs. During the dormant season is the time when both will transplant with the minimum amount of transplanting shock. Be sure to adequately prepare the new planting hole by adding generous amounts of compost (if available); peat moss and processed manure with your existing soil. Prepare the new planting soil about twice as large as the root system of the plant being planted or transplanted. Be sure to set the plant at the same level as it was previously growing. Large trees or shrubs should be staked to protect them from wind-whipping during strong winter wind storms. To read a more detailed explanation of choosing a tree, planting and care read this article.
Spring will come soon, and your plants will start budding out before you know it.