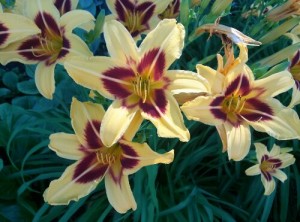 by Avis Licht-
Although I often feel a little cynical by what I call manufactured holidays, like Mother's Day, Valentine's Day and St Patrick's Day, they do have their uses.  Any reminder to love someone, remember, care for, forgive, or celebrate with someone is a good thing.
The same goes for Earth Day.  I believe and practice in my life, that EVERY day is Earth Day.  Each day I try to start the day with intention to do no harm, or at least less harm, and to leave my place on earth a little better than before.  Each day I spend some time in my garden. Sometimes just to walk about and enjoy it, to listen to the birds, to smell the jasmine.  Sometimes it's to work hard, dig the beds, remove weeds, sow delicate seeds, prune the trees. I am a caretaker.  We are all caretakers.
Today is a good day to take a few moments and listen to our co inhabitants- the birds, the humming  bees, the leaves moving in the wind.  Grateful for each day we can breath fresh air, drink clean water, walk on the earth. Grateful for being able to make a difference.
Thank you for reading my ramblings on the life of a gardener.
Here are some photographs of inhabitants of our Mother earth.