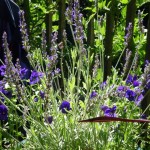 I just saw an important talk on a video through TED talks.  It's by  a man who helped Michelle Obama put a garden in the lawn at the White House.  I hope you will take the time to listen to it. It will make you realize that your garden is not only good for you, but good and important for the well being of the world.  Nothing less. His Name is Roger Doiron and he runs the  Kitchen Gardener's International.
Kitchen Gardeners UNITE!
The Challenge: Feed more people healthier food while preserving and enhancing the health of the planet. 

Our Solution:  Harness the power of people who grow their own nutritious, delicious, and sustainable food to help others do the same. 
We are a nonprofit community of 20,000 kitchen gardeners from over 100 countries.
Watch Roger's video, A Subversive Plot: How to Grow a Revolution in Your Own Backyard.