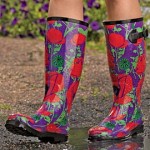 Whether the weather is windy or whether the weather is cold, we gardeners still love to be outside.  Winter rarely holds us back. But still, even an Englishman needs warm attire for the cold and rainy days.
A good pair of gloves can almost literally save your life.  Ok, maybe not your life, but certainly your fingers. These insulating, strong work gloves will serve you or your favorite gardener well outdoors.  And they are not expensive.  A glove seems like such a simple thing, yet it is important that it fits your hand for flexibility and dexterity.
I highly recommend these gloves! When you go to The Gardener's Supply website you'll find lots more styles of gloves.
Next after your hands – your feet! One must have warm, dry feet to stay outside in the cold and damp.  Women like to look good no matter where they are. Even slinging mud in a rain storm to clear the sidewalk.  Why not get her a pair of lively rubber boots?
Don't forget your head! Really need to keep that warm. This monkey hat will help you stand out from the crowd. What kind of hat do you like to wear?