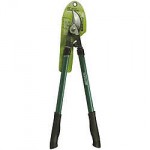 Tools that will make your life in the garden a little easier.
For the Fall Garden clean up it's important to have some good tools. The stronger and sharper your tools, the easier and better your work will be.  These are a few of the ones I simply can't live without.
Long handled loppers give you the length and leverage to prune those hard to reach places. These will clip branches up to an inch in diameter.  It's important to keep your blades sharp.
Hand clippers, are  of course, the tool of choice for everyday in the garden.  I actually have 3 or 4 pairs scattered around the  garden so I can always have a pair near at hand.  Fiskars or Felco's are great brands.
The other pruner that is important is the telescoping pruner.  If you have trees or vigorous vines, this is the easiest way to get to those heights. I find that looking up and pulling on the rope bothers my neck and shoulders. Be sure to take breaks in your work or you'll find yourself with a seriously stiff neck.
A small pruning hand saw is good for branches larger than 1 inch.  Orchard Supply carries these tools at a good price.
If you don't have one yet, it's a good time to consider getting a free standing compost bin.  You can find them at Garden's Alive along with other organic gardening needs.
Enjoy the Fall weather, when the seasons really change in your Edible Landscape.