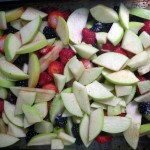 Going out into the garden to pick fruit is a really sweet thing to do.  You can be sure the fruit is fresh, organic, and ripe.  I needed something really quick to bring to a family gathering.  So I stepped out into the garden and picked a bowl of strawberries, a bowl of blackberries and some wonderfully tart apples.
All I had to do was rinse them off, slice the apples and put them in the pan.  If you want you can squeeze a little lemon juice over the apples.  I didn't have any, and no harm was done. I confess to sprinkling a tiny bit of sugar over the top of the fruit.
The next step is the crumble for the top.  You can use a variety of ingredients.  I use 1/4 cup rolled oats, 1/4 cup  flour, both whole wheat and white, 1/4 cup  sugar mixed in with 1/4 cup butter and a pinch of salt. A little cinnamon and nutmeg goes well with this. Mix these ingredients over the top and voila, you're ready to go.  Thirty minutes in 350 deg oven and you will have the best crisp you've ever tasted.
Fresh and organic makes a huge difference in the taste of fruit.
People ask me if you can really eat flowers. The answer is a definite yes.  Take a look at this salad.
Flowers in a salad make the salad look beautiful and in this case give it a tangy flavor.  The Sun Gold cherry tomatoes and Persian cucumbers are also incredibly flavorful.  See what I have to say about edible flowers in another post.
Don't be shy, give it a try. You might really like it.